Welcome to Orthotic Dimensions
Friendly, caring, dependable orthotic design since 1999
Orthotic Dimensions was opened in 1999 and has served clients from Toronto, Mississauga, Oakville, Milton, Burlington, Brampton, Greater Toronto, and others throughout Southern Ontario.
As experts in our field, we have developed strong ties with numerous health care professionals. This allows us to work as a team; to collaborate, and dedicate more care, attention, and resources to our clients so they receive the best orthotic treatment that they deserve.
Mary Miller, B.Sc., C.O.(c), FCBC
Mary Miller has worked in the orthotic profession for over 30 years. She was certified in 1990 and specializes in pediatric lower extremity orthoses and foot orthoses. Mary has held numerous positions within professional organizations during this time, serving as president of the Canadian Board for Certification of Prosthetists and Orthotists (CBCPO) from 2004-2006 and as secretariat of CBCPO from 1993-1999.
Mary takes great pride in serving many repeat clients who she has been able to form long term relationships with. She is extremely happy when a young child comes back through the doors of Orthotic Dimensions stating that they are coming to visit her in her "home". Orthotic Dimensions is happy to keep the 'small company' feeling where clients know that they can have the personalized care that they require and deserve from their friends who are always just a phone call away.
Outside of work, Mary has numerous hobbies and pastimes such as golfing, gardening in her "backyard oasis", and travelling to see the world.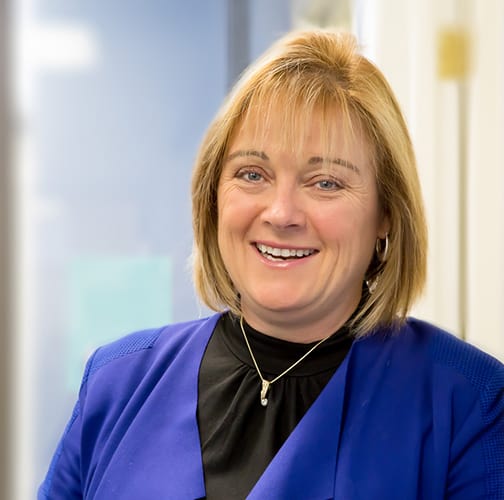 Our Clinic Affiliations
ErinoakKids Centre for Treatment and Development
The Galea Clinic – a sports medicine clinic
Trillium Health Centre – Peel Infant Development Program
Our Professional Associations
Orthotics Prosthetics Canada (OPC)
Ontario Association for Prosthetics and Orthotics (OAPO)
Association of Children's Prosthetic-Orthotic Clinics (ACPOC)
Our Office
When you come to Orthotic Dimensions it is our goal to make sure you are the priority and that the orthoses made for you are crafted especially for you, taking into consideration your specific needs and lifestyle.
Your comfort and satisfaction is our top priority. Contact us today to see for yourself – also, click on the images below to see each image in a larger format.